Wednesday, November 7, 2018 / by Tammi Knapp
There is a lot of talk about the market slowing down. Here are some stats to help clear things up.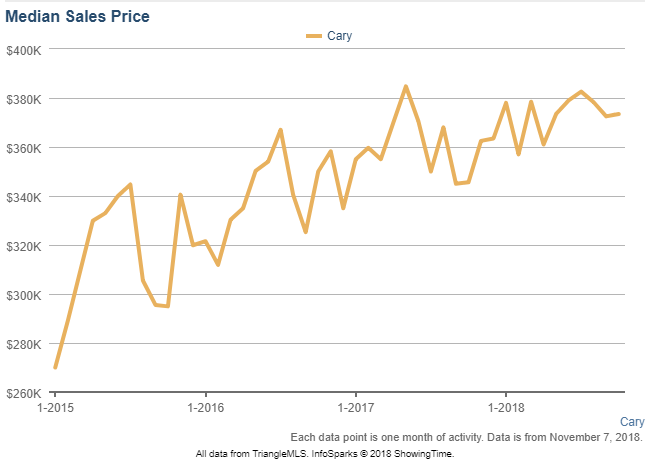 The average sales price of homes in Cary has increased from $280k in 2015 to $380k in 2018. That is $100k in 3 years. We can't possibly maintain that kind of appreciate, nor do we want to. Cary would become a place that only a select few could afford. So yes, appreciation has tapered off a bit. Part of that is due to seasonality. We do typically price correct during the winter months.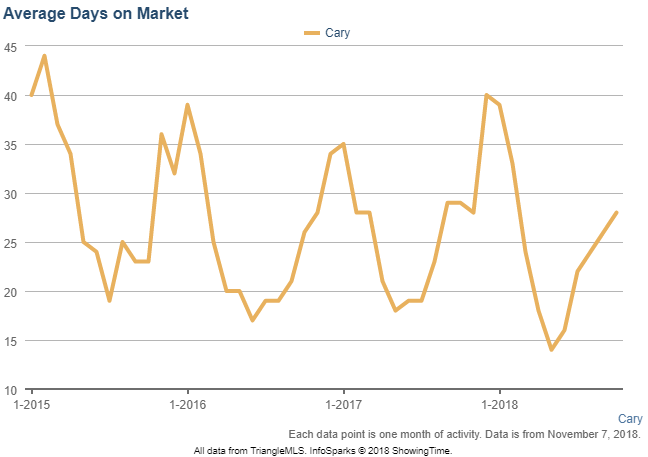 This graph shows average days on market. This year we dipped below 15 days on market. Some homes were actually selling in hours. This kind of market is very hard on buyers and sellers alike. Buyers are forced to make offers with very little time to consider their options. Sellers are faced with multiple offers and made to chose who will they chose to work with. That may seem ideal, but these offers are coming with letters from desperate buyers who have already been outbid. Both parties are feeling a great deal of stress to make a decision and make it fast.

And finally, this graph shows why the days on market got so low, we had a shortage of inventory. Plenty of buyers, not as many homes for sale. Again, this adjusts with the seasons, but we never quite reached the numbers of 2016 and 2017.
What does this mean for 2019? Nobody has a crystal ball, but analysts are saying 2019 might be more of a balanced market and some areas may see a shift to a buyers market. Real estate is hyper local, so if you want to know what this means for you specifically, please reach out. We love talking about the market and helping our clients navigate the changing market conditions.
TLC Realty Group